Alkaline foam generator equipment and low pressure rinsing
Alkaline foam generator for spraying onto surfaces with greasy dirt, the foam sticks to it. Giving it the time needed for the molecular dissolution process of the fat, afterwards, low pressure rinsing action is started. Ideal for cleaning kitchen hoods and fume extractors.
FOAM INJECTION
Spraying of active foam onto greasy surfaces, allowing the chemical to stick to and stay on the grease.
MOLECULAR DISSOLUTION
The chemical works through the molecular issolution of the fat, the process takes only 15 minutes, you can visually check that the white foam has been stained to the colour of the fat.
RINSE WITH WATER
Once the active foam effect is complete, it only needs to be rinsed off by spraying water under pressure, leaving the surfaces clean with no trace of grease.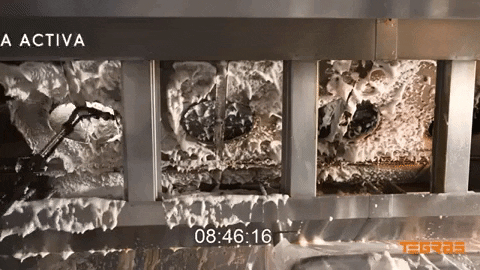 Power supply
220 V / 50Hz // 110 V / 60 Hz
Hydraulic power
Minimum pressure 2 bar - 29 psi
Compressed air supply
Minimum 80l/min 5bar // 2,83cfm 72,52 psi
Pump power
120 W
Max output pressure
6,9 bar // 100 psi
Control
Three position selector
Connections
Quick connectors
Body material
Stainless steel
Dimensions L x W x H
390 x 381 x 915 mm // 15 x 15 x 36 inches
Weight
18,5 kg / 40,8 lb
LANCE for foam injection and low-pressure rinsing,
90 cm long
Code AC3303302
LIQUID HOSE
8 m a long
Code AC3303211
AIR HOSE
8 m a long
Code AC3303203
WATER HOSE
15 m
Code HE7300200
MEMBRANE AIR
COMPRESSOR AR10
220 V-50 Hz:
Code CO3330412
110 V-60 Hz:
Code CO3330410
COMEGRAS
Ultra-concentrated 
degreaser. 
10 kg pack
Code PQ8100122
ZEROGRAS
Concentrated 
degreaser.
Code PQ8100127